Water Features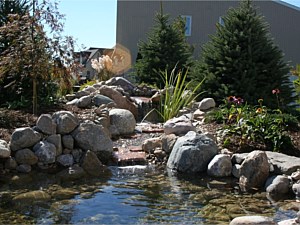 Adding any water feature brings an amazing sensory experience to your garden. A well-positioned water feature like a garden fountain can transform an ordinary garden into a relaxing outdoor spot with the hypnotizing movement and restorative sound of trickling water. Apart from this, if you live in a bustling locality, water features can be effective in blocking out traffic noise.
Making a Point with a Focal Point
Water fountains serve as focal points in a front yard or courtyard. Water features are available in a range of styles, concepts, sizes and materials. It is possible to buy a prefabricated fountain or have one custom designed & built. These water features may be freestanding, mounted on walls, disappearing or tiered. The ones you choose will depend primarily on your space availability, garden style, maintenance considerations and budget.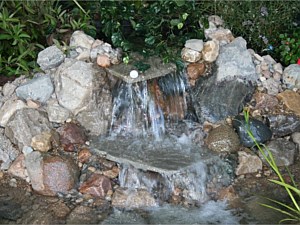 If you have a large outdoor space, a larger fountain can be used as a focal point while a smaller one can be the accent element. Spectrum Landscape Services will help you with sorting through all the options. We will also inform you about the pros and cons of various water features like outdoor water fountains. Here are some commonly used water features:
Pondless Waterfall - These are simply re-circulating waterfalls and/or streams without a pond at their base. You are able to enjoy the sight & sound of running water without having to worry about maintaining a pond. The reservoir has to be refilled only every few weeks.

It is a space saver and an excellent option for homeowners who have small children and are concerned about the safety factor. It also offers flexibility in that if you change your mind in the future, a pond can still be added as long as there is sufficient space for it.


Bubbling boulders - It is possible to create amazing effects with water and stone. Imagine crystal clear water bubbling out of a natural pink quartz, sandstone, granite or green mica stone. Boulders of various shapes and sizes are core-drilled to varying diameters, underwater lights and automatic water-flow controllers are added. They are perfect for any tight area or a patio and add beauty to the surroundings.


Ponds - For anyone who feels that water features are much more than decorative pieces, having a pond is a great way of enhancing the look of a yard. The ponds can have fish as well as water plants and they add a distinctively interesting dimension to an outdoor space. Fish ponds are not for the faint hearted but are great for any hands-on person who looks upon it as a hobby. They are high-maintenance, budget draining and require a lot of effort and care. But some people find the pay-off worth all the trouble.


We can provide you with water features of your choice and will install it with efficiency and expertise. Contact Spectrum Landscape Services, LLC on 317-777-3599 for the best water features in Greenfield, IN and the surrounding areas including Lawrence, Fishers and Beach Grove.
We Provide Services to the Following Cities and Towns in IN:
Perry Township, IN
Warren, IN
Pike Township, IN
Lawrence, IN
Greenfield, IN
Avon, IN
Wayne, IN
Plainfield, IN
Greenwood, IN