Water Features Fishers, IN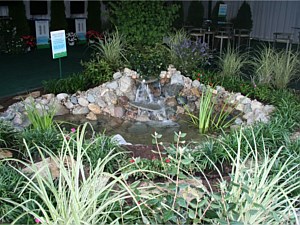 One of the easiest ways to make landscapes more beautiful and inviting is by installing various water features, such as pools, waterfalls, and ponds. And not only can such amenities enhance the general aesthetics of any property, they can also increase the property's market value, whether or not it will be eventually put up for sale. At Spectrum Landscapes Services, LLC, we have been installing stunning water amenities for countless property owners in Fishers, Zionsville, and Carmel. Since 2006, we have worked on many such projects around the state, and we have a growing list of clientele that validates just how good we are.
Water Features Designed for You
One of the great things about hiring us is that we provide a complete range of services for those who need professionally done water amenities. We have sets of crews who can design and then build water features for commercial locations and private residences. The designs we offer are all custom made, which means that no two water amenities of the same type will be built alike.
Additionally, we incorporate some low-maintenance features such as making ponds sustainable through proper plant choice so you won't need frequent maintenance. We could also include your desired amenities like waterfalls on your pool or sitting walls surrounding your fountain. Rest assured that we will design and build your dream water features with your needs and desires in mind.
Guaranteed Workmanship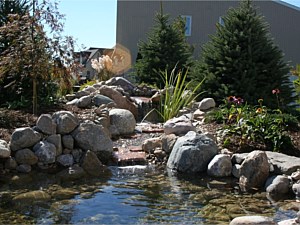 Our adherence to high quality standards is one of the things that separate us from other landscaping companies in Fishers, IN. We only use the best products and materials that we can find – pond kits to natural stones and bog plants. We source all these from trusted suppliers and manufacturers in the county. We provide a two-year warranty on workmanship, so you won't have to worry about the quality of water features that we will build for you.
Water Features that We Can Design and Create
Here are the various water features that we can design and build:
Waterfalls. Waterfalls can make your outdoors look very close to nature. We can build a single tier falls or we can install a three-tier one for optimum visual impact.
Ponds. Whether you desire a garden pond or a koi pond, we can install the perfect one that will render a soft and calming feel to your outdoors.
Fountains. The sight of water sprouting upwards never fails to amaze onlookers, and you can give your property the same wow effect with the fountains that we can create for you.
Streams. Feel really close to nature with man-made streams lined with natural flora. These are best combined with other features such as waterfalls and ponds.
Bird baths. Attract birds and make them your regular visitors by having bird baths strategically positioned around your yard.
Call Us Today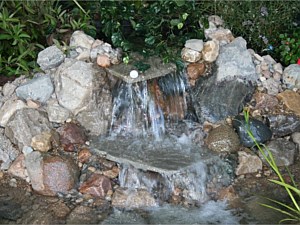 For those who want only the best water features, Spectrum Landscape Services, LLC is the right company to hire. We can work based on your budget, install your preferred water feature, and send only experienced crews to work on your project. We have served a lot of clients in Fishers and nearby Indiana locations who are all satisfied with the results of our work.
Call us now at 317-777-3599.
We Provide Services to the Following Cities and Towns in IN:
Perry Township, IN
Warren, IN
Pike Township, IN
Lawrence, IN
Greenfield, IN
Avon, IN
Wayne, IN
Plainfield, IN
Greenwood, IN