Outdoor Kitchens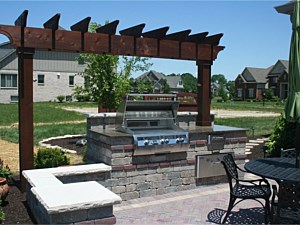 Outdoor kitchens are the perfect way to equip any outdoor/ semi-outdoor space in a garden or yard, for relaxing and entertaining. These can range from very small and functional areas with just a simple built-in BBQ grill to elaborate large and fully-equipped outdoor kitchens, with one or more countertops, grills, sinks, bars & storage cabinets. When planning any outdoor living space for you, Spectrum Landscape Services will take the following factors into consideration:
The best location for your kitchen
The number of people you plan to accommodate
Your specific entertaining needs. Once we have understood your specific needs, we will then create zones in the outdoor kitchen design for different functions such as food preparation, cooking, dining & socializing
The next step is to determine the size requirements, the design layout and countertop placement. We will also assign the perfect places for all the cooking equipment and appliances like a BBQ grill, sear zones, side burners, griddles & warming drawers that you will need to create an outdoor kitchen that is truly functional. If you plan on placing a refrigerator, we will make space for that in the design. In case there is a space crunch, you can opt for an under-the-counter refrigerator that is functional and a great space saver in smaller outdoor kitchens
It is important to choose the best materials as this will increase the longevity of the outdoor living space. Viking, DCS and Titan offer some of the best grills in the market
While the design is being drawn out, we will also take into consideration factors such as- the number, position and sizes of drawers you need
The countertop material should be chosen with care. You must remember that though outdoor kitchens may be partly covered, they will also be more exposed to the elements than indoor furniture will. You can choose from countertops made of stainless steel, concrete, granite, ceramic tile or stone. In our experience, granite is a superior option. It weathers the elements well, is sturdy, low maintenance and stays looking new for years
The materials that are used in making cabinets for outdoor kitchens should be heat resistant and waterproof. We also ensure that they are sealed well to keep out the bugs and dust
Based on your specific requirement, you will also have to decide whether a water heater is required and factors such as winterizing will have to be taken into account. There might be a few months in the year when you might not use the outdoor kitchens and we will also equip the water heater with a blowout to ensure that you have no trouble with winterizing it
The Pleasure of Outdoor Living Spaces
Outdoor living spaces are an extension of your homes and they too should be as well planned and designed as the rest of your house is. We will work very closely with you on your budget and ensure that your outdoor kitchen is a definite value-add to your home. Contact Spectrum Landscape Services, LLC on 317-777-3599 for the best outdoor kitchens in Greenfield, IN and the surrounding areas including Lawrence, Fishers and Beach Grove.
We Provide Services to the Following Cities and Towns in IN:
Perry Township, IN
Warren, IN
Pike Township, IN
Lawrence, IN
Greenfield, IN
Avon, IN
Wayne, IN
Plainfield, IN
Greenwood, IN