Landscape Lighting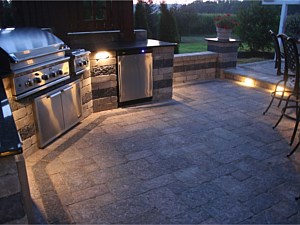 Most homeowners pull out all the stops when it comes to designing and decorating their homes and there is no reason why your effort has to be restricted to indoor spaces. And so, you hire the services of a landscape designing company and create outdoor areas that are as stunning as the interiors, but what about exterior lighting? Is that in place?
The general belief is that illuminating the structure or the property is more than enough. But, landscape lighting creates the right ambience and it also makes the best of all the features in the garden and the architecture of your house. More importantly, it can extend the living space, not just physically, but visually too.
The Best Features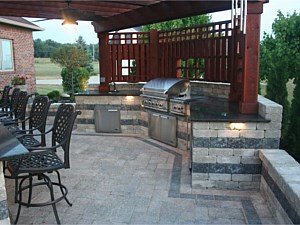 Spectrum Landscape Services offers the best outdoor lighting solutions. Since we are landscape designers and installers, we understand how and where to place the right kind of lighting to provide you with the right effect. We adopt a very scientific and creative approach to landscape lighting. Here are some things you should know about the process and the materials used:
The appropriate number of garden lights, positioned at the right spots can accentuate the beauty of your house and its surroundings. We create visually striking looks that will encourage you to step into the garden/yard and make full use of all the outdoor spaces on your property.


We pay a lot attention to details such as safety and utility and also understand which plants or landscape features you like best. This helps us create the right mood-lighting for you.


Another very important factor in landscape lighting is energy efficiency. When you have so much lighting around your home, it becomes important to use products that will reduce energy consumption. In this effort, we encourage homeowners to use LED lights instead of incandescent ones. The initial costs of the latter are definitely less, but they will not last for longer than a year.

On the other hand, LED lights which are a shade more expensive can last for upto 15 years or longer. Plus, they are 80% more energy-efficient and environment friendly too. Since they last for so long, you don't have to worry about landscape lighting maintenance either. Depending on which brand of LED lights you opt for, you will get a 10 or 15 year manufacturer's warranty.


We also install stainless steel transformers which come with a lifetime warranty. These are installed with photo cells and timers and though these low-voltage lights will receive only 1/10th the power the artistic effect they create is unimaginably stunning.


When we plan and install landscape lighting we ensure that you have a garden that is safe, with optimal and largely maintenance-free lighting. We will create the best plans and also offer a 2 year workmanship warranty on designs. Contact Spectrum Landscape Services, LLC on 317-777-3599 for the best landscape lighting in Greenfield, IN and the surrounding areas including Lawrence, Fishers and Beach Grove.
We Provide Services to the Following Cities and Towns in IN:
Perry Township, IN
Warren, IN
Pike Township, IN
Lawrence, IN
Greenfield, IN
Avon, IN
Wayne, IN
Plainfield, IN
Greenwood, IN