Landscape Contractors Indianapolis, IN
Property owners should not look further to find landscape contractors with a knack for providing exceptional services. As a family-run business, it has been our mission since 2006 to help commercial and residential clients enjoy professionally rendered comprehensive landscape service offerings at very reasonable rates. We've been serving the cities of Indianapolis, Washington Township, Franklin Township, and surrounding areas.
At Spectrum Landscape Services, LLC, we specialize in design, installation, and maintenance of various landscapes - big and small. With us as your landscape contractors, you can look forward to a landscaped property that truly stands out in terms of aesthetics, safety, and functionality. Call us soon.
Our Credentials as Landscape Contractors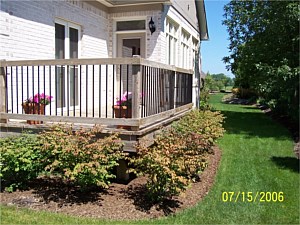 We are some of the few Indiana-based landscape contractors that posses rock-solid credentials. For one, our company has already been featured in two leading landscape and hardscape magazines in the country. We also have reliable partnerships with leading suppliers and manufacturers like Belgard and Allan Block. Belgard is one of the industry's most revered manufacturers. The company is mostly known for its premium pavers and retaining wall products, while Allan Block is famed for its mortarless wall systems and segmental retaining wall materials.
Additionally, we have an A+ BBB rating, which essentially means that we are trusted to resolve consumer concerns with utmost professionalism. Likewise, our certification from ICPI attests to our intimate knowledge of the latest trends and practices in interlocking concrete pavers.
Experienced Landscaping Professionals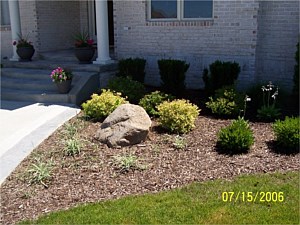 As experienced landscaping professionals servicing Indianapolis and nearby locations, we can work on all phases of landscaping, such as design, installation, and maintenance. Our skilled personnel are trained to efficiently perform our clients' needed landscape services and assistance, with focus on rendering commendable results. We can work on all types of properties – residential, commercial, golf course, and public spaces such as parks.
As landscape contractors, we always observe a personalized approach when handling projects. This entails conducting interviews with clients so we can fully understand their specific needs and concerns. Consequently, homeowners and businessmen all praise our masterful handling of their most challenging landscaping projects.
We also have flexible personnel who can perform different landscaping tasks with ease. They are all certified and trained in the various aspects of landscaping. With us, you won't have to hire other companies to perform your various landscaping needs as we are very versatile and adept in all possible landscaping tasks.
Premium Landscaping Materials and Affordable Rates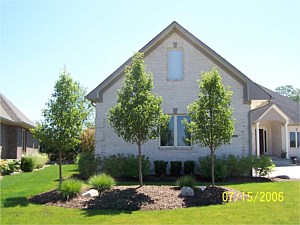 Meanwhile, our ready access to the finest landscaping supplies, materials, and appropriate tools and equipment allows us to satisfy project requirements and exceed client expectations. Our rates are competitive, so even if you have limited funds to start with, you can still get the services of licensed landscape contractors. Ultimately, all these traits will assure you of coming home or staying in a property that has all the amenities and features that you desire for a truly relaxing stay.
Hire Us Today
Don't think twice about whether or not it's a great move to call us and avail our services. We have handled so many successful projects before, and we can surely handle all your landscaping needs if you hire us today.
Please dial our hotline at 317-777-3599 so we can answer your questions quickly. We service Indianapolis, IN and other nearby cities.
We Provide Services to the Following Cities and Towns in IN:
Perry Township, IN
Warren, IN
Pike Township, IN
Lawrence, IN
Greenfield, IN
Avon, IN
Wayne, IN
Plainfield, IN
Greenwood, IN