Fire Pits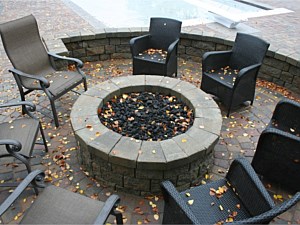 Adding a fire pit to the landscaping will enhance the look of your backyard and increase its functionality quotient. Fire pits provide warmth, a comforting ambience, light, and they can also be a cooking source if required. They are the perfect spot for entertaining, relaxing and socializing.
Taking Care of It All
The campfire-like atmosphere that they create is a definite plus and they also add value to your home. There are numerous options when it comes to the style, shape and size of the outdoor fire pits. Spectrum Landscape Services can provide you with expert outdoor fire pits installations. Here are some factors that will be taken into account when we are installing them: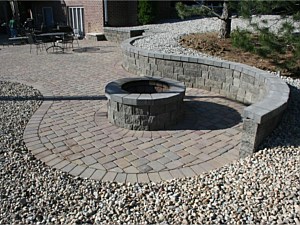 Based on your personal choice and the design of the rest of your garden/ yard, the fire pit can be made of stone, brick or concrete or any other hardscaping material
The pit fill material also has to be chosen with care. We offer you options such as recycled glass, river rock and lava rock. This will add to the beauty and the heat absorbency of the fire pit.
When it comes to designs and shapes, there really is no restriction and you can opt for triangular, square, L-shapes or any other customized shape you like
Along with the shape, we also ensure that the fire pits are of the right height. A fire pit with very high walls will only direct the warmth upwards. With our years of experience, we know exactly how to design, engineer and install fire pits in order that the warmth of the fire comes out to those sitting around it. To a certain degree the height will also depend on the height of the garden or patio furniture.
All the materials that are used in the fire pit will be of the highest-quality. Commercial grade fittings will be used and a stainless steel fire ring will be fitted in the fire pit
We will also discuss options for heat type and you can choose from wood, propane or gas. Wood burnings fire pits have a rustic feel and some homeowners like the smell of burning wood when they gather around in a fire. However, certain regions have very stringent laws around burning wood. In addition to this, wood can be messy and smoky and maintenance is difficult too.
On the other hand, if you opt for a gas fire pit you get rid of all the hassle. There is no smell or smoke and the entire area will remain very clean. Gas is also very easily available and our certified plumbers can extend the gas line from your house to the fire pit and the lines will also have an emergency shut-off.
With our extensive experience in landscaping and designing outdoor spaces, we are able to provide you with sound advice, efficient service and the best pricing. We also provide you with a 5 year warranty on hardscaping. Contact Spectrum Landscape Services, LLC on 317-777-3599 for the best fire pits in Greenfield, IN and the surrounding areas including Lawrence, Fishers and Beach Grove.
We Provide Services to the Following Cities and Towns in IN:
Perry Township, IN
Warren, IN
Pike Township, IN
Lawrence, IN
Greenfield, IN
Avon, IN
Wayne, IN
Plainfield, IN
Greenwood, IN