3D Landscape Designs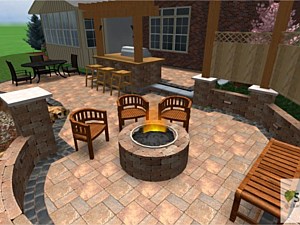 When you buy a home with a font or a back yard, that area is ideally an extension of your home and there is no reason why you should not have it specially designed, just as you would any indoor space. Having an attractive garden or yard is not just about planting a few shrubs and flowering plants. It's about adding hardscape, softscape as well as water features and creating a space that is well balanced and one that flows seamlessly with the design of your home.
Spectrum Landscape Services has years of experience in this area and we know that well-planned landscape designs add a great deal of value to your property and an undeniable curb appeal. We adopt a very methodical approach to every landscaping project that we take up and create the most attractive landscape designs:
Meeting the Clients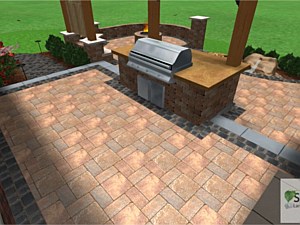 The first meeting with our clients is the most important one. We take this opportunity to understand all your ideas and needs and also the budget that you are comfortable working with. In this meeting we will pay a lot of attention to family characteristics. When you have open spaces surrounding your home, you no doubt want to make maximum use of them. We will check if you need a play, sports or recreation area, and will factor that in too.
Outdoor living spaces like an outdoor kitchen or a barbecue area will also be part of the landscaping design work and we will make a note of all these requirements. We will also take into consideration factors such as the parking spaces you need and any other areas that you might need to allocate for a camper, a boat or children's bicycles. This will be the foundation of the landscape designs that we draw out for you.
Surveying the Area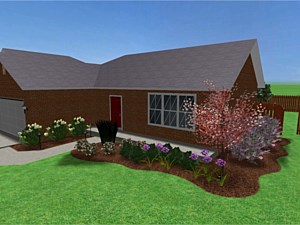 We will then carry out a survey of this area and check the soil condition as well. In addition to this, we will see how leveled the garden is and whether any slopes exist. This is important while creating pathways and driveways. The backyard will be scrutinized in great detail and any specific problems will also be made a note of. Backyards also have a lot of potential and we will scope the area and see if it is possible to add a deck, if you require it. All of this is part of our comprehensive landscape designs planning phase.
The Installation Phase
Once we have all the information and inputs, we will start with the designing work and get your suggestions if any, and work on them. Once you are satisfied with the concepts and landscape designs, we will then start the actual installation work. We create areas that are a blend of hardscaping and softscaping, which will ensure that it is a low-maintenance space for you.
We offer free consultation and the design fee will be credited to the project. We take great pride in our work and offer a 1 year warranty on all landscapes that have been designed and installed by us. Contact Spectrum Landscape Services, LLC on 317-777-3599 for the best landscape designs in Greenfield, IN and the surrounding areas including Lawrence, Fishers and Beach Grove.
We Provide Services to the Following Cities and Towns in IN:
Perry Township, IN
Warren, IN
Pike Township, IN
Lawrence, IN
Greenfield, IN
Avon, IN
Wayne, IN
Plainfield, IN
Greenwood, IN