Landscape Design Washington Township, IN
The single, most critical factor to achieving a standout outdoors aside from professional installation is creative and smart landscape design. Without this all-important blueprint, one cannot expect to have a stunning, functional, and safe landscape where it's possible to come home every day and feel rejuvenated after a tiring day.
Wherever you may be in Washington Township, Indianapolis, or Franklin Township, we at Spectrum Landscape Services, LLC can sit down with you and hear your specific design ideas about your dream landscape. As we've done countless times before, we will use our lengthy design experience to translate your ideas into a full-color design rendering. Using state-of-the-art technology, we will present to you a creative landscape design proposal that is highly detailed and has all the earmarks of smart design.
Connect with us soon so we can commence work in capturing your dream landscape on paper.
Our Landscape Design Tool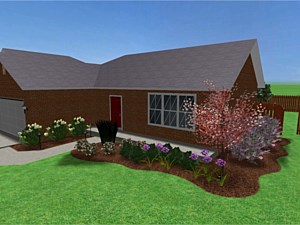 These days, technology plays a huge role in fleshing out people's ideas, particularly when it comes to landscapes. Accordingly, our company has invested money and time to train our people and to purchase cutting-edge computer design software. We specifically use 3D design technology when creating landscape design proposals for our clients in Washington Township and other select Indiana cities and locations.
The beauty of 3D design software is the freedom and flexibility that it provides to our creative team. It allows our designers to work faster and more efficiently, hence completing projects way ahead of the deadlines. Moreover, our people can easily insert changes late into the design phase, thus ensuring total client satisfaction.
We are likewise able to help Indiana clients visualize their landscape with the realistic nature of 3D designs. Knowing how the final output will look, clients have the unique privilege of pointing out areas where they need some alteration done. This way, we can help them avoid problems once the installation stage kicks in.
Great Reasons to Hire our Landscape Design Services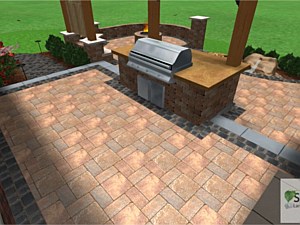 There are so many great reasons why you should get us to handle your landscape design needs. Here are some of them:
A meticulous approach. Knowing how vital the design is, we always make it a point to perform our designs meticulously. This entails sitting down with clients to understand their needs and desires. We also survey our clients' property to get general understanding and feel of the ideal improvements that should be reflected in our design proposal.


Creative designers. Not all landscape design companies have people with the same skill set. And we at Spectrum Landscape Services, LLC are fortunate to have with us creative designers who possess deep knowledge of all landscape elements, as well as the basic design principles, like harmony and balance.


Comprehensive services. Apart from our offered design services, we can also perform installation and maintenance of various landscapes, both residential and commercial. With us, you won't have to hire other companies to cover all your landscaping needs.


Affordable rates. Worried about not getting your desired landscape design services due to a limited budget? No worries – we offer low rates and even flexible payment schemes and contracts to accommodate clients with varying financial capabilities.


Indiana's Finest Landscape Designers
For truly functional and stunning landscapes, hire Spectrum Landscape Services, LLC today. We promise to provide you with an exceptional landscape design that you will surely be proud of. Call us at 317-777-3599 whether you're in Washington Township, IN or in a city nearby.
We Provide Services to the Following Cities and Towns in IN:
Perry Township, IN
Warren, IN
Pike Township, IN
Lawrence, IN
Greenfield, IN
Avon, IN
Wayne, IN
Plainfield, IN
Greenwood, IN